Start Journaling from Scratch
✓ 2023 edition with new & exciting features
✓ 365 customized pages, One for each day of the year
✓ Requires 5 minutes a day as the journal guides you through the process  
✓ Documenting memories, Introspective questions boosts productivity  
✓ An Exclusive Telegram community
✓ Quarterly Live Productivty Sessions with RJ & MMM
✓ Make JJ your go-to gift for 2023!
Join waitlist for #JJ24
What's inside Jagruk Journal 2023 kit?
Along with an exclusive invite for Telegram community & Quarterly Live Sessions.
Will Jagruk Journal Help me?
It will definitely help you, if answer to any of the below question is YES!
Want to make most of your limited time on this planet earth?
Want make every day memorable?
Want to make your days more organized and productive?
Want to form good habits and get rid of bad ones?
Want to achieve your short & long term goals?
Want a proven method that will help you achieve your goals ASAP?
YES?
Then don't think twice. 
Jagruk Journal has helped thousands of professionals and students last year,
Himanshu Verma

3rd Year Btech Student

  

I hate to write. Not even a single line! But I am 21. I realized I have spent many years being disorganized and lazy.  But now writing has become my habit. I never knew it was possible. Thanks to the LLA team! Good job. I highly recommend it

Rohit Agarwal

Software Engineer, TCS

  

I totally loved the journal. and I find myself sitting with it every day just before going to sleep. I hope you continue with it forever. It's really helpful for me. keep up the good work. Well, it helped me with self-improvement.

Arnav Swami

Freelancer

  

It is an amazing journal. I would have liked to gift it to my friends and family. After using it for a month I have felt a difference in my life. It is much more organized and I seem to have clarity and control over my day.

Swati Sharma

Homemaker

  

Amazing product. A  helpful tool for self-improvement. I will definitely purchase the next product you will launch. Loved the way it is designed. The best part is to answer a different question daily.

Satakshi Joshi

CA Aspirant

  

Really great experience with the journal. It's great even for a person who had never been into journaling before. Amazing product. A  helpful tool for self-improvement. I will definitely purchase the next product you will launch.

Abhinn Mittal

Finance Consultant

  

Overall it's really a great product and during the month of January, I was doing my goals on time. It's not only work goals but life goals. I was able to schedule my day. The best one was the activity tracker.
Haven't utilized 2022 to its full potential? 
Don't  let 2023 slip away as well. 
Take control of your time, 
Take control of your emotions 
Take control of your habits. 
Motivation is momentary, good habits and daily action are real game changers.
Jagruk Journal will become a core habit on which you can build many more. 
Not only clarity, but you'll also get the road map to a happy and a productive life.
How to use Jagruk Journal ?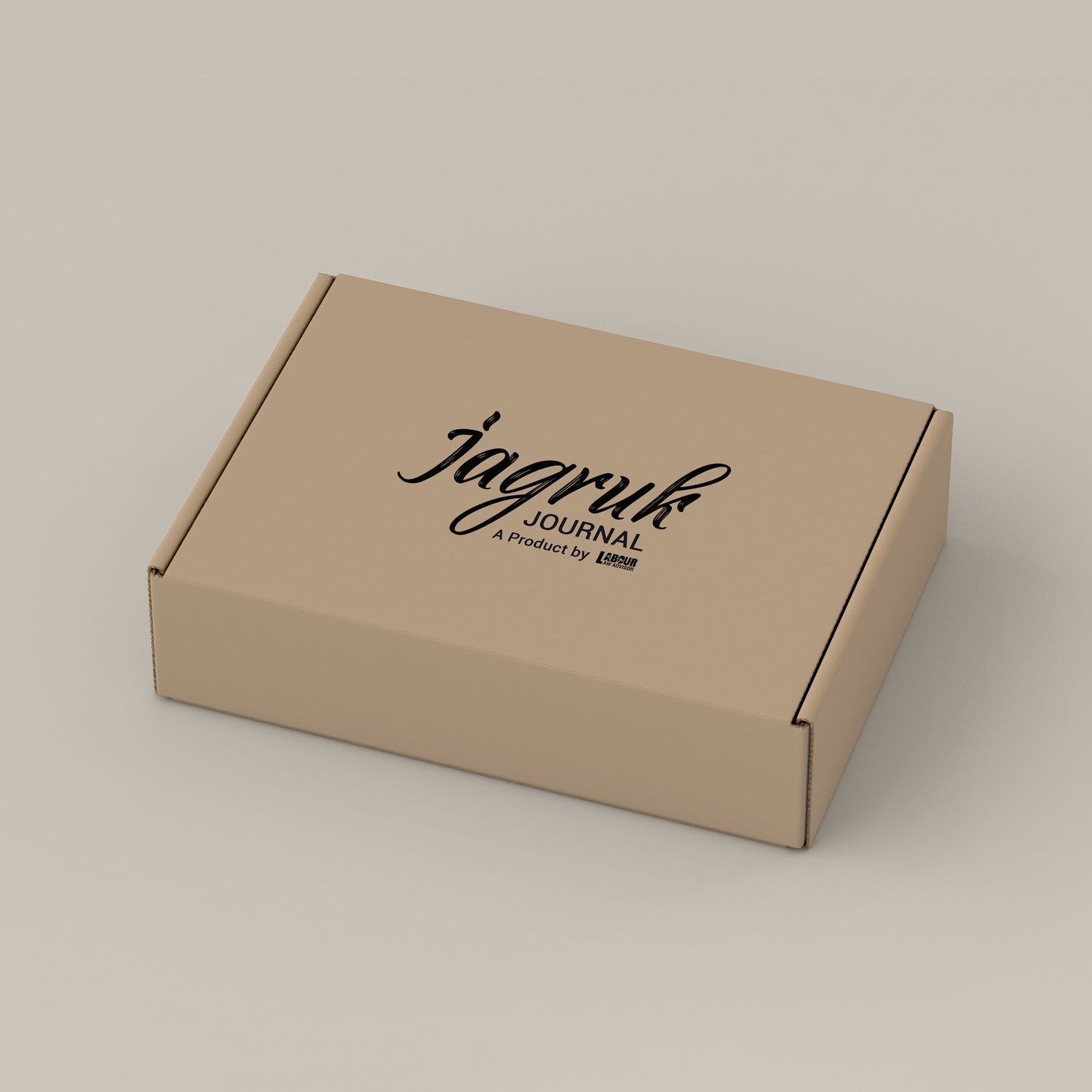 The Box
In the eco friendly cardboard shelter you will find 2 half yearly journals of 200 pages each, along with 2 book marks and a super cool sticker sheet. 2 Part journals are light weight and easy to carry. 
Community and Live interaction invites will be mailed at the beginning of 2023.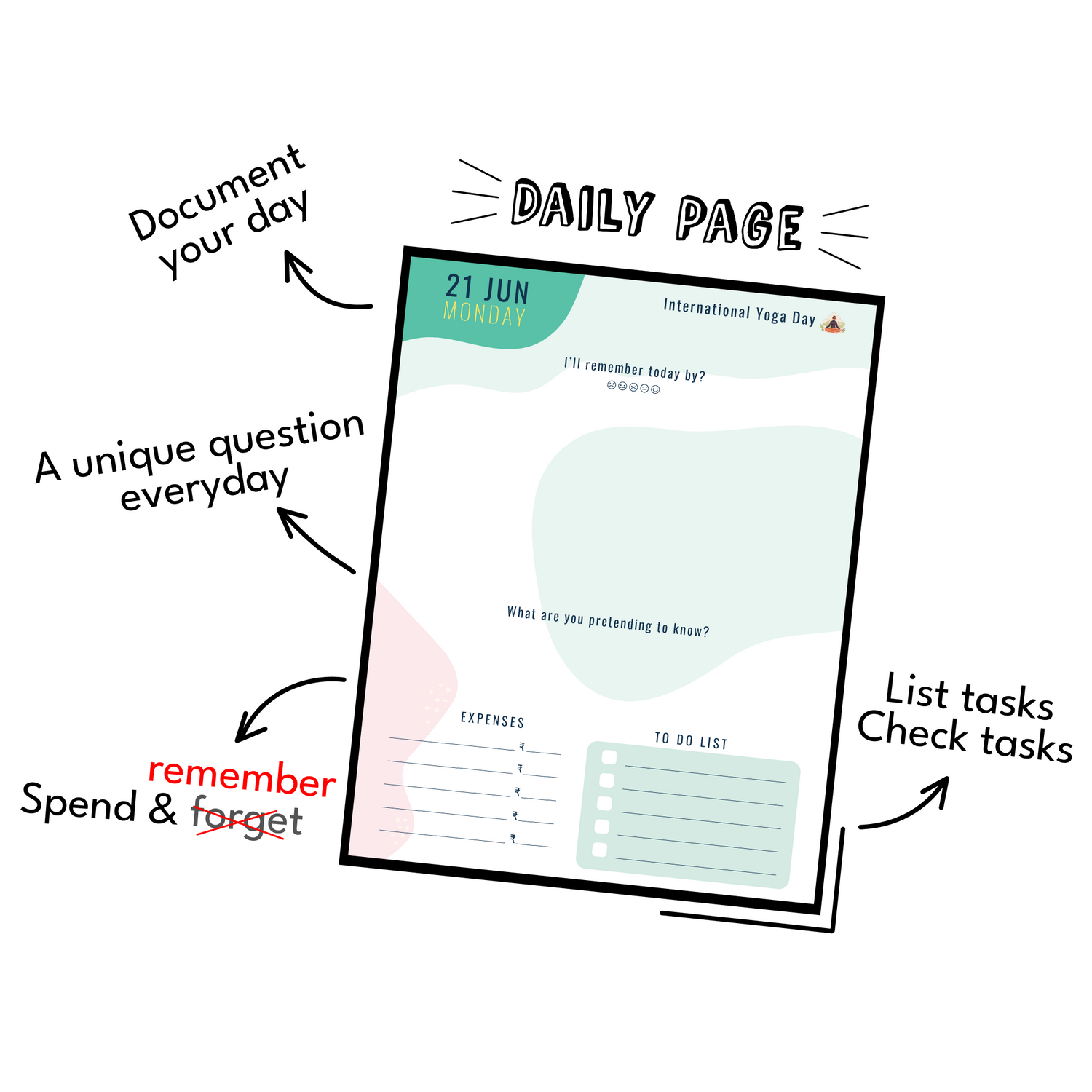 Daily Page
Jagruk Journal has 365 unique Daily pages- one for each day. The four main elements are: '1. I'll remember today by', '2. A unique question every day' '3. a to-do list' and '4. An expense tracker'. Invest just 5 minutes at end of each day,as the journal guides. 
Answer what journal asks and experience the magic.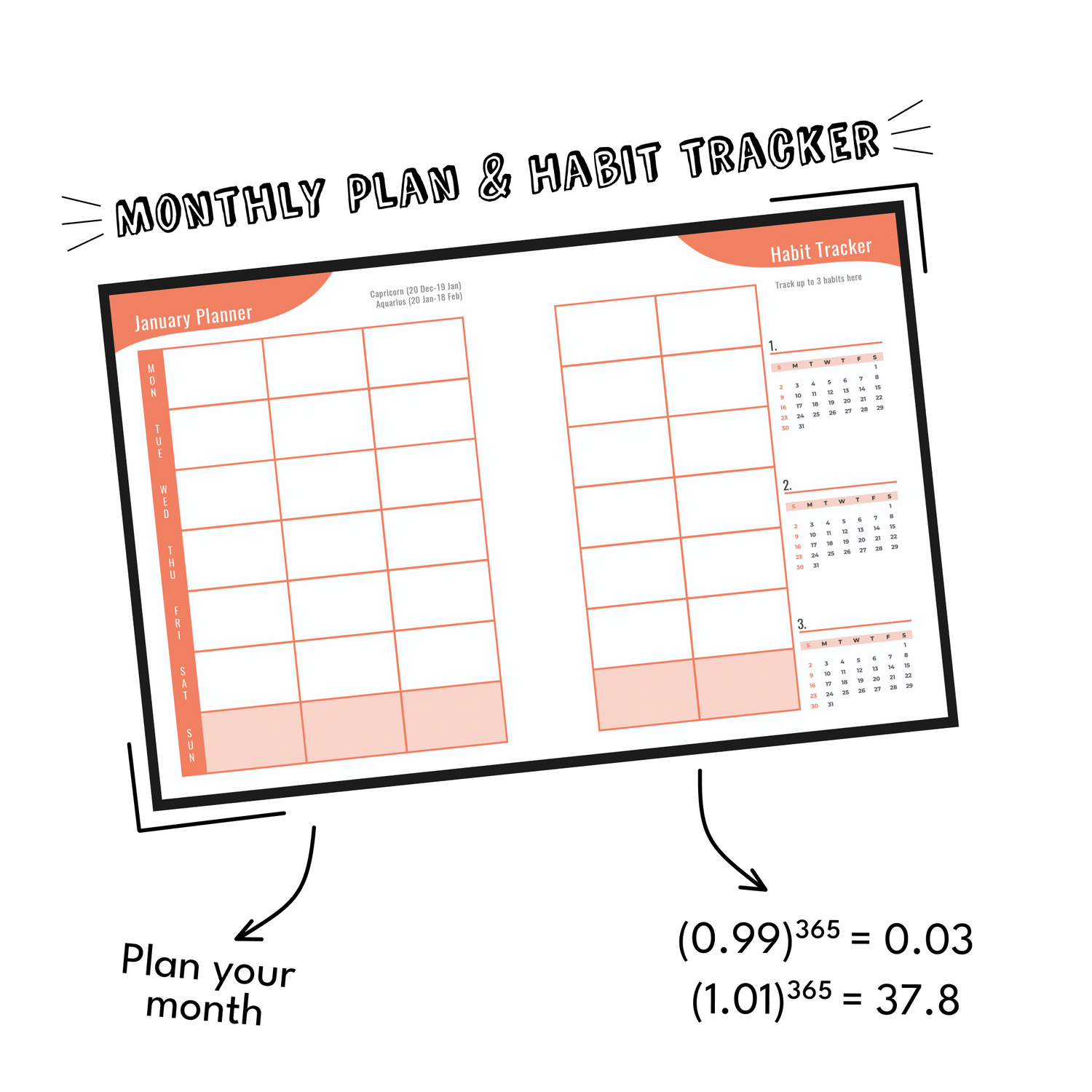 Monthly Planner
Staying organized and plan your months in advance. Mark the important days like Meetings, holidays & special occasions. Use the habit tracker on the right side  to develop upto 3 good habits every month.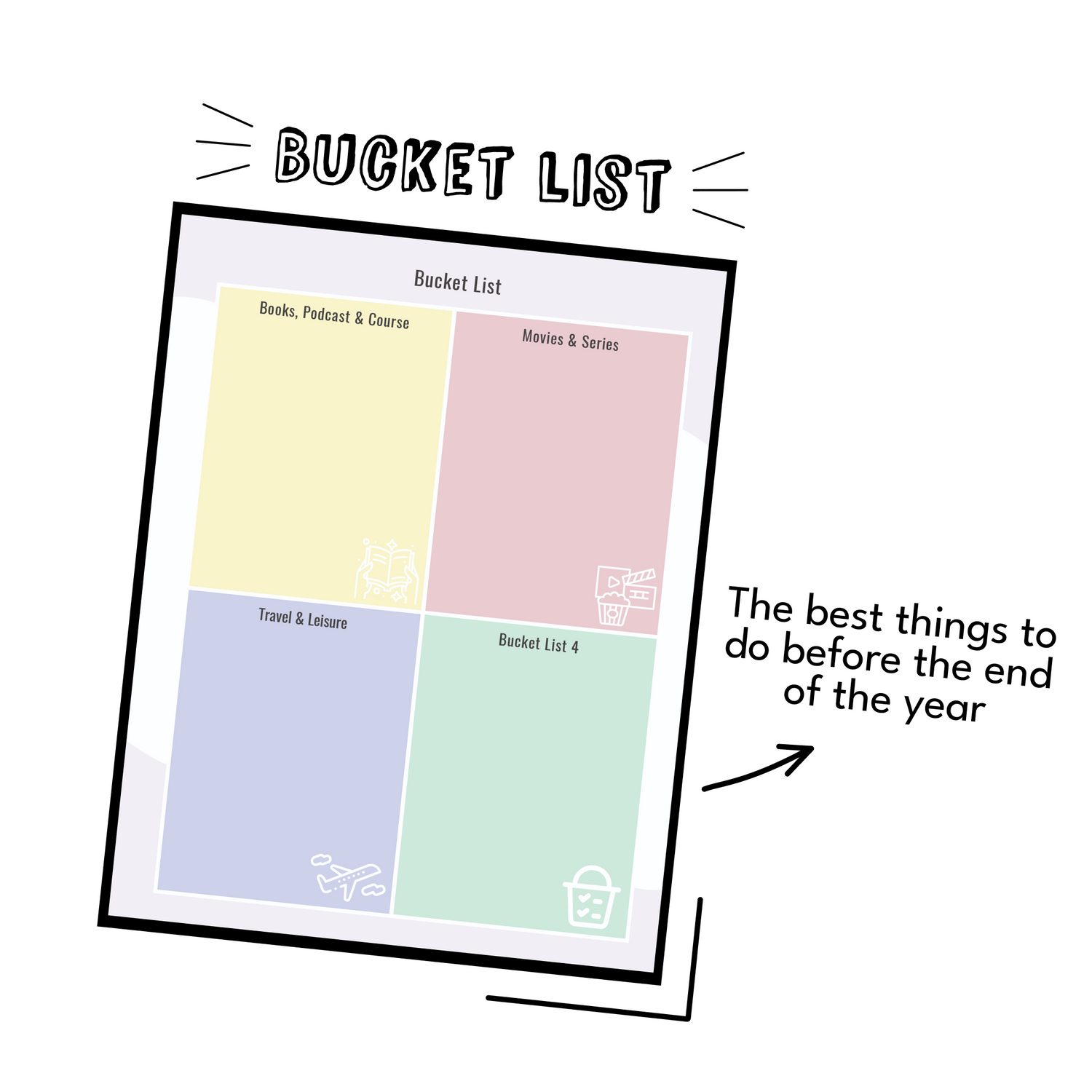 Goal & Bucket List page
Simply writing your goals and bucket list will bring you closer to them. It answers the "Why" within you. It also allows you to focus on your desires instead of getting caught up in the rat race.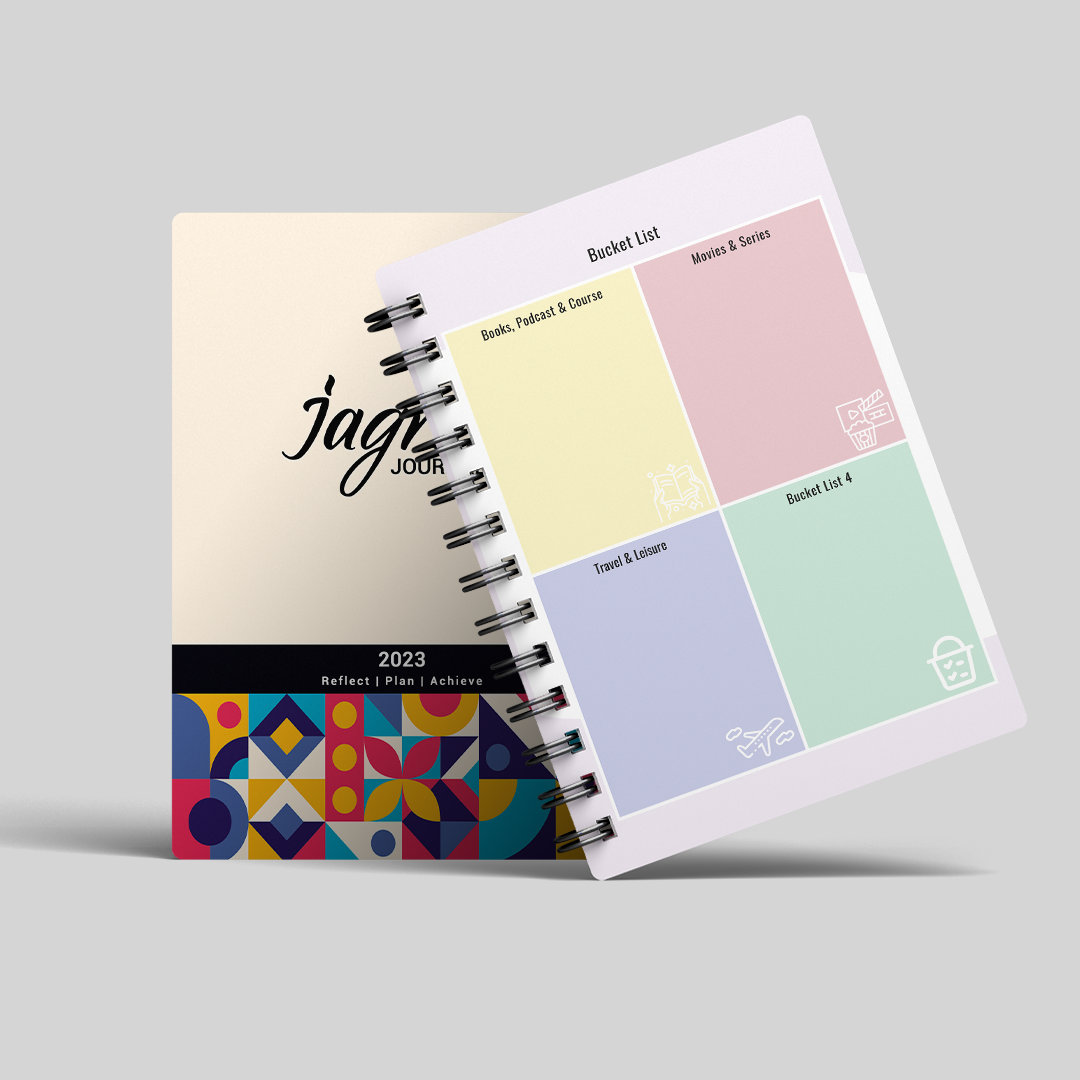 Community
Forming a new productive habit by yourself can be tough, but it's much easier to do with friends - especially if they also want to form the same habit! You'll get access to our exclusive Telegram community. This not only provides motivation, but also accountability, since you'll be able to see how your friends are progressing and vice versa.
BONUSES 
An exclusive telegram community where you can share your pictures, thoughts, anything, and everything. It will help you become accountable. 
And, a one-hour call with the LLA team (RJ, MMM, and Andy ) once every 3 months. 
You'll receive the Telegram join link in your email on 1st January 2023. And the first live session will be on 26-01-2023 ( Details will be shared on the telegram group )
For Whom?
Professionals:

Scribbling down your everyday thoughts will assist you in establishing a work-life balance

Homemakers:

Enhance your ability to manage multiple tasks at once by daily journaling your thoughts.

Students:

Keeping a track on your habits at the start of your career leads you to a more examined life
Frequently asked questions
Why Jagruk Journal retails at Rs.990?

The price is inclusive of 18% GST &  Pan India free shipping. You are getting 2 half year journals in the box of 200+ pages each. 
 Why only Jagruk Journal?

It's because we are not providing you with an ordinary journal. It is a guided and customized journal for you. And, the support of our telegram community and sessions with the LLA team will help you be accountable in this journey.
Why was Jagruk Journal retailing for 890 rupees on Flipkart and 990 rupees on the LLA website?

Flipkart was charging 100 rupees for shipping. So it was 990 rupees only. Whereas on the LLA website, you get it for 890 rupees after applying the code: JAGRUK.

However, Amazon and Flipkart are now retailing the journal for 990 rupees.
Who should have a Jagruk Journal?

Anyone who loves productivity and wants to preserve their thoughts for years to come. Professionals, Students and home makers all gave rave reviews about it last year.
How to use Jagruk Journal?

Jagruk Journal is thoughtfully designed to suit today's hectic lifestyle. It is a guided journal. You need to invest five minutes daily and follow the lead. It is super easy.
Ordered JJ from Flipkart or Amazon?

If you ordered #JJ from another platform, then you have to follow these 3 steps:

1. Click on this form link.

2. Fill this form with the correct information and also upload one photo with your jagruk journal as proof.

3. Then on 10th Jan, you will receive the invite link for the exclusive telegram community.
How to join the telegram community?

If you ordered #JJ from the official website, then don't worry. You will receive the invite link via mail by January 10, 2023. If you ordered it via Amazon or Flipkart, read above question for more information.
When will the live session happen?

Live will happen exclusively for the telegram community. And this live event will be scheduled for every quarter. On January 26, 2023, the first live session of 2023 will take place.

Further, invite links and timings will be shared in the community
What's the agenda of Live?

It's a fun live session with RJ, Mandy, and Andy. You can ask your favorite creator questions and chat with them for a while.
 "I've never written a journal before."

Don't worry. Every page is custom designed and you'll simply follow the instructions. And, the bonus is our exclusive telegram community. It definitely helps you to be accountable.
How to order a Jagruk Journal?

Just click on the BUY NOW button and add the Jagruk Journal to the cart. You can add multiple journals. Then go to the cart and click the checkout button. Add complete shipping address and contact details. Complete the payment. You will receive confirmation of the same
How to order Jagruk Journal in bulk? 

Jagruk Journal can be the perfect  New Year gift for your family or employees. This will help them stay productive and store memories. If you order 100 or more, we can give a wholesale discount along with a custom logo/message on the back cover. Fill out the contact form or email us at jagrukjournal@lla.in.
 Is the price inclusive of GST and shipping? 

Yes, the price is inclusive of 18% GST and shipping across India.
How will we receive our tracking id?

Once we ship you Jagruk Journal you will receive a tracking ID on your email ID.
 Is it available on COD?

 No, the product is not available on Cash on Delivery.
What payment methods do you accept?

We accept all major Debit & Credit cards, Net Banking and UPI.
 How long does the shipping take?

 The product will be shipped within 7 working days. It will take 15 days to deliver the product.
How can I cancel my order?

 Any order once placed can not be cancelled.
What is your refund policy?

 In case we are unable to deliver to your PIN code, a refund will be initiated.
 How do I contact customer service?

Please drop us a mail at jagrukjournal@lla.in and WhatsApp me at 8854910366. We will respond within 24 working hours.